Annual Black Hills Shop. April 4 - 19, 2014.
Save the dates~April 4-19, 2014. 10 shops, prizes, drawings, & a mystery quilt to make.
Call for information. 605.662.5758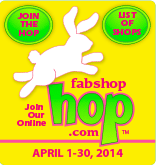 The Bunny has JUST Arrived.



Sign up for our Newsletter (to the LEFT) so you can keep up
on the newest sales, fabric & ideas.

Check out our latest additions to the "Selvage Yard"
ONLINE OPEN ~ 24/7
Please call if you are looking for something you don't see on the website-we may have it in the shop!
(605.662.5758), email (nutsandboltsfabric@gmail.com) or put a comment in the order form.

Thank you for shopping with us.